Again, as each year, I write about the fetish of Christian men (and some women) with the Super Bowl. A lot of "oil" will be wasted tomorrow evening as millions of Christians bond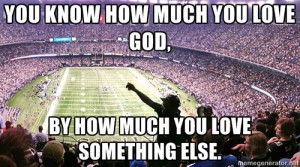 with slaves of the world system. Sunday evening across America will be carnality overload. Monday will be an excellent day for Satan to strike the community of Christians. Most of them will be spiritually hung-over. They will not be able to hear God or to minister to anyone with any degree of efficiency. They will be greatly expended to the point of near powerlessness.
Some churches will have Super Bowl Sunday with large screen TV's and a smorgasbord of snack food. It's all about reaching the lost (as if the lost do not have flat screen TVs and food of their own). Of course, lost men will abandon their beer and nachos to go to a church building where they can't curse and yell at the referees, the opposing team, the ones on their own team that make mistakes. Not!
Ok, I know all the comebacks. "What wrong with having a little fun?" "Don't be legalistic." And the best one is, "Judge not lest you be judged." First answer, it's not about a "little fun", but about obsessive indulgence. Second answer, it is not legalistic every time that there is a challenge to gathering around a "golden calf." Third answer, "The Christians who label every exhortation as a judgment watch the Super Bowl, and make the judgment that anyone who questions them is judgmental.
Let's just cut to the chase and spell it out in clear terms with a few questions. Is the fact that Christians are now religiously addicted to sports indicative of Christianity's influence over the world? Is there any venue in the world system ( a nightclub, a strip joint, a sports bar, etc.) where people will watch a church meeting? Has any Christian event snared 200 millions viewers? I suppose the answers to those questions will support the conclusion that Christianity is not winning the world, but the world is winning Christianity.
The fact is that Christians went from recording the Super Bowl to watch it later, to skipping the Sunday night meeting to watch it, to replacing the Sunday night meeting with a Super Bowl party in the sanctuary. What's next? Are they going to have Masters Sunday for the golfing fans? How about World Series Sunday? Don't forget NASCAR and all the other important entertainment and sports events.
At one of the most critical periods in history, the Christian society continues to yield place to Satan. The culture is approaching the state of hedonism. Our government is destroying the nation with numerous horrific decisions, rules and regulations, unconstitutional actions, and an astronomically mounting debt. Terrorism lurks in the shadows. Islam is invading every facet of our society. Christianity is in full blown apostasy. Heresy and hirelings are multiplying and consuming like a plague. Homosexuality is being approved in every sector. There is so much more and there is not enough space to present it all.
Instead, of drawing nearer to God, becoming prayer warriors, standing up for God's truth, and being an instrument of His divine will, Christian men are obsessing with everything that brings them pleasure. They see no harm in it because they do not see the consequences. However, the consequences are not visible because they do not count the spiritual losses as significant or important. Further, they do not accept or acknowledge the damage.
I ask every Christian, if you cross the threshold of death Sunday night, will you be confident that you left this world loyal to God obedient to His will? Will you have enough "oil" when the midnight cry is sounded? Do you really believe that God condones indulgence in the Super Bowl? Make yourself a list of reasons why it is right to indulge and find the scriptures that clearly support each reason on your list. As for me and my house, we fight too many battles, have too many responsibilities and ministry opportunities, to waste our "oil" on frivolous indulgences. Call it what you will, but ones affections identify his or her loyalties in marriage or in relationship with God.
If then you were raised with Christ, seek those things which are above, where Christ is, sitting at the right hand of God. Set your mind on things above, not on things on the earth. (Colossians 3:1-2)