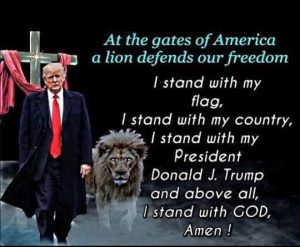 This photo is a blasphemous example of how malignant Trump worship has become. I am deeply saddened by this blind and unfettered rush to bow in worship before a politician. The comparison to Christ is nauseating. Dear Father God, please heal our blindness and deafness!
The King Cyrus narrative is a bogus comparison concocted and promoted by religious hirelings and heretics. Israel did not elect Cyrus—he was already a king. Furthermore, the reason Israel was in need of deliverance was because they had become apostate and rejected all the prophets with their warnings. It is helpful to note that several previous presidents were called "King Cyrus." How many Cyrus's do we need before we become "great again" or cease falling into rottenness? I might be mistaken, but I believe NAR false teacher Lance Wallnau was the first to call Trump King Cyrus.
Christianity in our nation was near fatally apostate before Trump's election. The apostasy kicked into a high gear with his election and his choice of famous heretics as spiritual advisors. In fact, if I could point to one thing that cost us the battle (yes, it's over—there's no turning back the evil tide) against heresy and the demonic invasion of paganism in Christianity, I would point to the election of Donald Trump. It was exactly the fertilizer boost it needed for rapid growth. It is now ready for the False Prophet.
Concurrently, America's secular populace is beyond mere secularism. Over 40% are fully prepared to submit to Antichrist. A large percentage are hedonistic, anarchist, licentious, have the mind of Satan, promote infanticide, promote or practice sexual perversion, image mutilation and gender alteration, et cetera. In short—they are demonic. They have elected politicians that would destroy this nation in an instant and some are fully involved in that process. Their hatred for anyone and anything Christian is flagrant, ominous, and explosive.
So what is this King Cyrus supposed to do? Make America "great" again? So a secular king is going to suspend free will and turn professing Christians back into at least doctrinally sound pew-warmers and the secular faction into beer guzzling good ole boy red necks? Is that "great again?"
Or is this King Cyrus going to purge America of wicked people and bless the rest with abundant prosperity, soccer fields, and doctrinally sound, church meetings? Well, our King Cyrus can't even arrest flagrant traitors, thieves, perjurers, and treasonous people. But one of his own has been arrested for a much less offense. I'm not opposed to a president that tries to do the right thing, but I'm greatly opposed to making him a saint and his election sacrosanct.
Exactly what are professing Christians asking for? Define "great again" for me? Were we "great" during the Great Awakening, when they could not get a quorum to convene Congress because so many politicians were in prayer meetings? Or were we "great" when we allowed Abortion to begin and our universities to become intellectual and spiritual death traps, and focused on the good life while liberals took over the news media, entertainment, the Democrat Party, public education, et cetera? How far back do we expect Trump to set the time machine in order to make us great? When he pushes the button will secular society respect Christianity again and will churches be filled with truth on Sunday?
The flesh cries out for ease, comfort, and prosperity with all the fancy "fixins." Such a mixture has never increased God's kingdom. The Church has always grown in persecution. Hirelings groveled at the feet of Trump to convince the professing Christian masses he was their savior. They did it to protect their personal kingdoms. Don't people get that? Compromised professing Christians needed a Pharaoh to chase them out of "Egypt" but they chose a "King Cyrus" to make Egypt "great again." It's not going to happen.
One more time I will state that the only hope for America is for professing Christians to fully surrender to God and fervently pray. There are no quick fixes and no substitute for repentance. Crying out for return to our flesh pots and carnal pleasure while we play religious games is not a viable reason for God to supernaturally mitigate the consequences of our failure or refusal to obey Him. If anyone thinks that it is, he or she is on a greased slope to delusion!
Wake up you that are sleeping with one leg in politics and the other one in a hireling concocted religious wonderland! We are in the last days and you are unprepared for what lies ahead! We don't have a King Cyrus but a mere man whom professing Christians elected because of a stubborn, self-willed, fantasy to reject the blatantly obvious, i. e., the end of the age. And because they wish to bask in peace and prosperity a few more years before the dream is crushed by reality.