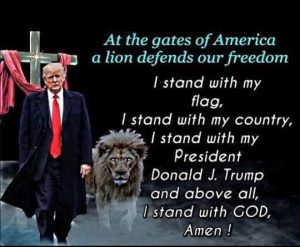 This photo is a blasphemous example of how malignant Trump worship has become. I am deeply saddened by this blind and unfettered rush to bow in worship before a politician. The comparison to Christ is nauseating. Dear Father God, please heal our blindness and deafness!
The King Cyrus narrative is a bogus comparison concocted and promoted by religious hirelings and heretics. Israel did not elect Cyrus—he was already a king. Furthermore, the reason Israel was in need of deliverance was because they had become apostate and rejected all the prophets with their warnings. It is helpful to note that several previous presidents were called "King Cyrus." How many Cyrus's do we need before we become "great again" or cease falling into rottenness? I might be mistaken, but I believe NAR false teacher Lance Wallnau was the first to call Trump King Cyrus.
Christianity in our nation was near fatally apostate before Trump's election. The apostasy kicked into a high gear with his election and his choice of famous heretics as spiritual advisors. In fact, if I could point to one thing that cost us the battle (yes, it's over—there's no turning back the evil tide) against heresy and the demonic invasion of paganism in Christianity, I would point to the election of Donald Trump. It was exactly the fertilizer boost it needed for rapid growth. It is now ready for the False Prophet.
Concurrently, America's secular populace is beyond mere secularism. Over 40% are fully prepared to submit to Antichrist. A large percentage are hedonistic, anarchist, licentious, have the mind of Satan, promote infanticide, promote or practice sexual perversion, image mutilation and gender alteration, et cetera. In short—they are demonic. They have elected politicians that would destroy this nation in an instant and some are fully involved in that process. Their hatred for anyone and anything Christian is flagrant, ominous, and explosive. Continue reading