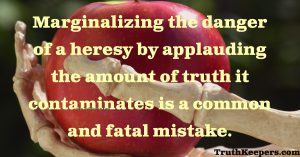 I posted this principle on my Facebook page and had some very angry responses. What ensued was the reason why I stopped debating long ago. People no longer listen to reason—they love doctrine more than truth. And in spite of admissions to the contrary, they are inextricably bonded with people that they are enamored with. Thus, instead of absorbing facts and coming to the logical conclusion, they explode with ad hominem.
In case someone does not know, along with my writing, teaching, and preaching ministry, I have for a long period been engaged in exposing the unfruitful works of darkness as it pertains to heresies and heretics. The process of determining a heresy, and whether or not it is deadly enough to expose, is exactly the same for each situation. Thorough research and applying God's word is painstakingly and diligently effectuated. I reiterate, each heresy and heretic is dealt with in the exact same manner without bias or favor.
A downside is that I never know when someone, even a friend or associate, is going to be offended by a heresy or heretic that I write about, or concerning my position that disagrees with their belief(s).  But it is occurring more and more frequently.
Someone may ask, "But why can't you just ignore what other people believe and focus on promoting your own beliefs?"
Ok, but one of my beliefs is that I should expose the unfruitful works of darkness, which draws contention from people that believe in heresy. The fact is that if someone espouses a heresy and I am asked for my opinion, my response is nearly always considered contentious. I believe that truth has just as much (actually, more) right to be heard as error.  But people under deception and confidently speaking a heresy do not believe that. It becomes clear that it is not the truthspeaker that is the cause of contention, it is the heretics reaction to truth itself.
Additionally, every deadly heresy is an attack on the truth. Not to defend truth against attacks is cowardly. The cowardly will have an equal place in the Lake of Fire as unbelievers, murderers, and sexually immoral individuals.
"But the cowardly, unbelieving, abominable, murderers, sexually immoral, sorcerers, idolaters, and all liars shall have their part in the lake which burns with fire and brimstone, which is the second death." – Revelation 21:8
Some people wiggle out from confronting famous heretics by insisting that the errant ones preach and teach "the pure gospel." Not if they are genuine heretics.
The fact is that a deadly heresy cannot be separated from the amount of truth in the heretic's doctrinal system. The reason is because heresy contaminates the whole system. If one preaches the true Gospel and also believes and supports a deadly lie, the entire package is heresy. Truth should not be separated from the package and then used to deem the deadly heresy as benign.
For example, a Roman Catholic that espouses the "true" Gospel is still promoting Roman Catholicism. Likewise, a Calvinist that preaches/teaches the "true" Gospel is heresy. It is a mistake to separate the true Gospel from the Calvinist's doctrinal system and marginalize the danger. In fact, the more truth that a heretic elucidates, the greater the danger of people being snared by his or her deadly heresy.
For example, Jimmy Swaggart claimed that God imparted exclusively to him a new revelation not previously known to the Church or the Apostle Paul. His supposed revelation is a heresy that contaminates the truth that he preaches/teaches. However, people point to the truth Swaggart delivers and exonerate him of heresy.
What if a bit of botulinum too small to see with the naked eye was dropped into a clean and sterilized bucket of purified spring water. Just two billionths of a gram is enough to kill an adult. A teaspoon of botulinum can kill a billion adults. Two kilograms can kill the entire population of Earth. Would anyone marginalize the danger of the botulinum by extolling the much greater amount of pure water?
Marginalizing the deadliness of heresy by focusing on the truth that it has effectively contaminated is courting fatal deception. It is the same paradigm the serpent used to deceive Eve in the garden of Eden. The serpent pointed out what Eve stood to gain by believing its message. She was lied to and distracted from what she stood to lose.
Today, men and women stand on stages and in front of cameras and cajole people by telling them what they stand to gain. It's all about the here and now—satisfying their "wanter" while milking their "giver." Meanwhile, there are so few people left to defend truth that is seems all that's left for Satan to do is clean the battlefield of the few straggling survivors. Here I stand—but God is with me.
This is not the time to be enamored with people, not that there ever was a time when that was permissible. It is very dangerous to accept a message on the basis of popularity or because it makes you feel good. Christ did not say to us, "Go ye therefore and believe what you wish to believe." The heretics presenting such messages were not sent by God. Nothing in their fruit proves that they were. Until they respond to Christ's call to "Come, follow Me," they will not be sent to the lost or found sheep. They cannot even hear His call. Listening to them is listening the message of the wolves and regarding them as great sheep.